I have a very easy and quick little craft for you!
I don't know about anybody else but I have had a hard time finding any 4th of July decorations lately.
Atleast I haven't seen any that I have liked much.
I was shopping the other day and picked up some ribbon and then headed over to Michael's later that night and picked up a foam wreath.
I wrapped the ribbon around the wreath and then added a few little stars
A fun little 4th of July Wreath!
I'm loving the white feather's :)
Have a great weekend!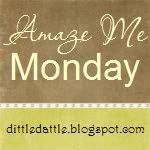 ;